In 2007, I built my first Eel. Since then I've build almost a dozen of them.
An Eel is a very long banner, 60 feet long in fact.
The original Skydiving Eels are a concept born out of Burning Man, a huge yearly festival in the middle of the Nevada desert. The eels of Burning Man become a giant, moving, art-installation in the sky. The skydivers that jump over Burning Man deploy these long colourful banners, and they are decorated with an eye and a mouth, so it looks like the skydivers are being chased out of the sky by giant eels that want to eat them. This is so much more fun than deploying a corporate banner or a patriotic flag.
I've been building eels for many years now – but let's go back to 2007.  I wanted to join that group of skydivers at Burning Man, and built my first eel to bring it there. It was built from light-weight kite fabric and 5 feet tall and 60 feet long. I originally ordered enough fabric to make 2 eels, but since I now build hot air balloons -I have a ton of extra fabric to make more.
I test-jumped that first eel in in the Spring of 2007 in Florida, and have video of it here:
I never did make it to Burning Man. But I did have an eel, and a bunch of extra fabric to build more.
I jumped it many times, and many times on Demonstration Jumps over Football Games, local schools and the Wings over Gatineau Airshow.  Here's a video of me at the airshow showing a first-person perspective of the jump:
At the airshow, it was a huge crowd-pleaser. Much better than smoke (and more ecologically friendly too!). I don't know first-hand (because I'm in the air when I deploy the flag), but supposedly the crowd lets out an excited "Wow!" when it's deployed, as most people are not expecting a banner that is 6 times longer than the canopy towing it.
So my friend Pico had been super-envious of my eel for the last few years when he was jumping demos with me, and had asked me repeatedly to build him one so he can jump it.  I've always told him that I had extra fabric, and that I would… some day! So one day I did.
So here are pictures of that second eel, in it's finished glory.
Here's a last picture of it, showing the transparent mouth and the eye:
And since then, I've build a few more, with chest deployment bags and once with a leg deployment bag. Here are some pics of those: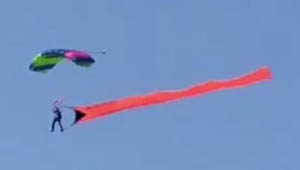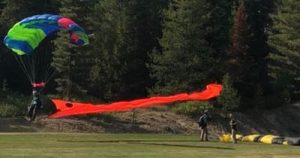 If anyone is interested in having an eel made for them, contact me for more information.