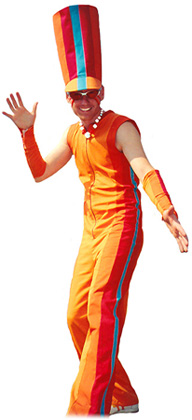 Alain has a passion for the creative arts. Being an avid juggler since 1992, Alain Bard learned to juggle while he was studying at the University of Ottawa, being a regular attendee of the local juggling jam. Although his geography degree has yet to pay a penny, his academic introduction to juggling has proven to be practical.
Alain has been performing professionally since 2004.
Most of his performances are "ambiance" in the walkabout style. This type of performance usually involves being fabulously dressed in original costumes, taking on a persona such as a king, a mage or a referee. These characters can be on foot or 9+ feet high, up in the air, on custom-made lightweight performance stilts.
Alain Bard is fully bilingual and is based in Ottawa, Ontario, Canada.
Reviews
"Your [glow] show was superb. the volunteers really enjoyed it."
Suzanne Beaulne – Canada Science and Technology Museum
"Wow, you're really good!"
Ottawa Senators event staff
(Note that as of 2020, after 16 years of entertaining audiences worldwide, I have decided to hang up my performer hat – and I no longer perform professionally)