We have been designing hot air balloons for more than a decade and have built or helped to build more than 30 hot air balloons to date.
We can custom-design almost any kind of hot air balloon design, whether it is a regular round balloon (in any size), a special shape balloon or even R/C model balloons. We can make your ideas come to life.
We can also provide a visualization of the 3D model prior to construction – so you can see what the balloon would look like prior to construction. Here are some 3D visualizations of a few of our completed design projects: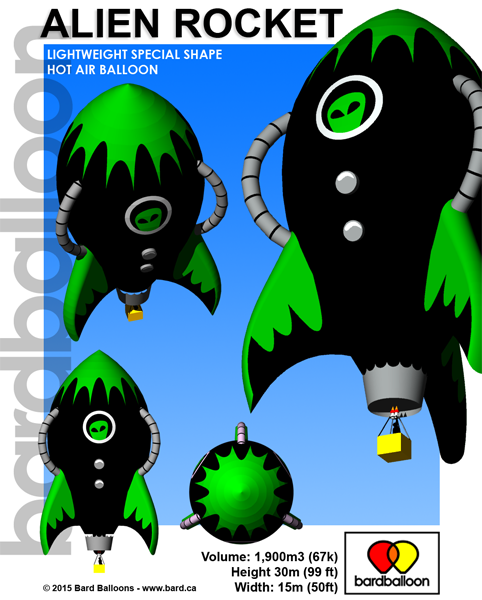 Project Gallery
Visit our BARD Balloons Project Gallery with all of the balloon projects built from our plans by other builders.
For pictures of the balloons we have built ourselves, see the Bard Balloons Special Shape Hot Air Balloons page.
Stock Patterns
We now also have a range of BARD Balloons Stock Patterns already completed and ready to be delivered to you.
Design Primer
We use 3D CAD to design.
As an Aircraft Mechanical Engineer (AME), with years of experience inspecting, maintaining and repairing all makes of balloons, Alain Bard has a keen eye for what works and what doesn't. With the experience of designing and and/or helping to build a few dozen projects, as well as being mentored by one of the world's leading special shape designers, and with 25+ years of working as an IT professional, using 3D CAD tools for design is second nature to him.
While some people are familiar with 3D CAD tools, knowing the details of how to use the tools to produce a design that will inflate well in real life (keeping in mind that all inflated surfaces start as flat fabric panels which stretch under pressure) without causing excessive wrinkling is the difficult part which we've been successful at doing.
Flat patterns
Many builders use traditional flat patterns to build their hot air balloon. Unfortunately, this makes a final result which is a balloon that looks boxy and flat, and because the loads are distributed unevenly along the surface of the fabric, it makes for balloons with many vertical wrinkles in the skin. One way to avoid this is to increase the number of vertical gores, but this requires more seams, more load tapes, and makes a balloon that is ultimately heavier. Here are some examples of flat rendered patterns: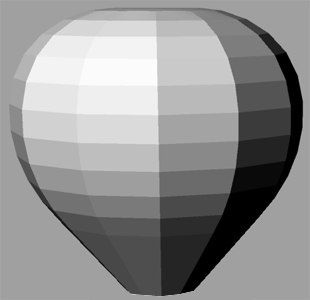 Lofted Patterns
A better way, and the way most major balloon manufacturers use, it to use lofted gores, also know as "bulbous". The degree of loft on each gore is variable, depending the on the look you want to achieve. The lofted gores concentrate the loads at the load tape seam and lets the gores "puff" out naturally, which reduces or eliminates vertical wrinkles on the finished balloon. Here are some examples: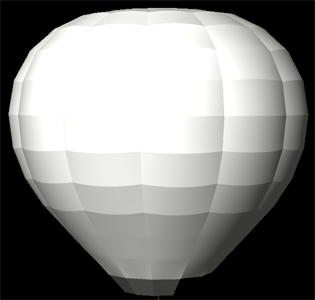 We can custom design any kind of shape, whether you want a round ballon with slightly lofted patterning (our favorite), a racer shape or a highly bulbous balloon, in any size from tiny model balloon, up to 6+ passenger full-size balloons. It's your choice. We use 3D patterning software to make exact patterns so that the end-result looks good in the air. We also have some neat tricks like flatening the loft of the patterns at the mouth and at the top to ensure proper tension at the mouth and perfect parachute fitment.
Custom
We can also design appendages and/or complex and/or assymetrical shapes: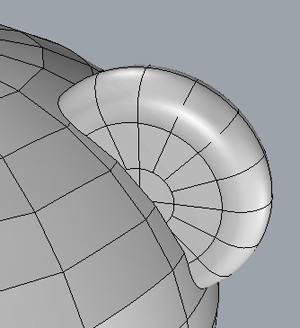 Arial Advertising
Your Logo on a Balloon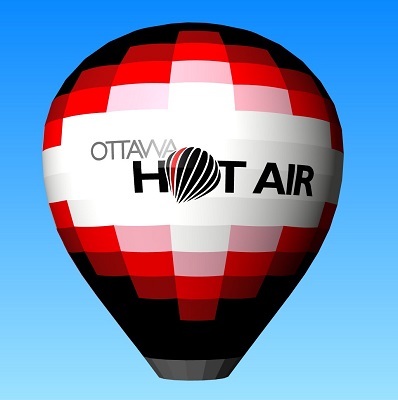 We can design and apply your 2 dimensional flat logo or or complex artwork onto the curved surface of a balloon. We can make all the appropriate cuts and pieces so that the logo looks good from every angle.

We can also provide a 3D rendering of what your completed balloon would look like.
A note about our appendage special shape balloons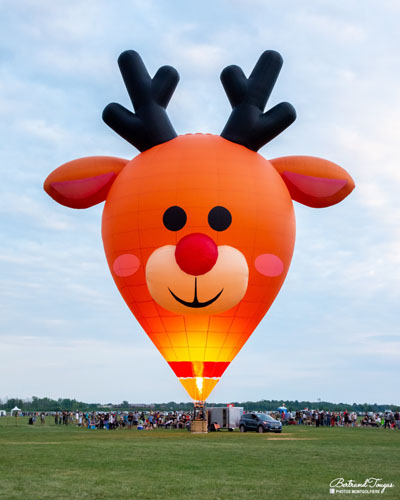 While at first glance, some of our "face" special shapes (MyDeerling, LoveBear and BB Tiger) may look similar in construction to "appendage" special shape balloons (aka "add-ons") from major manufacturers – they are not – look closer!
The main body of the balloons are far from regular. Most manufacturers would use an existing lofted pattern with obvious vertical gore lines in the design, but all our shapes use advanced 3D computer shaping to achieve a perfectly smooth, flat, outer surface – so that there is no extra loft (like a smooth cylinder). This is difficult to achieve – but the result is a balloon without wrinkles.
Furthermore, the balloons have rounded tops (as opposed to a flat-top like a regular balloon) to resemble the outline of a head, as well as a slightly elongated vertical profile. Finally, on MyDeerling, the size of the appendages far exceed the size typically used (or allowed) on other type certified "add-on" balloons, making this balloon stand 100 feet tall and 90 feet wide.
All of our special shape hot air balloon designs use advanced 3D computer shaping to achive a smooth outside surface.
Get in touch if you want something custom-created for you!