Bard Balloons produces bespoke, custom-made, lightweight hot air balloons – created from scratch in Ottawa, Canada.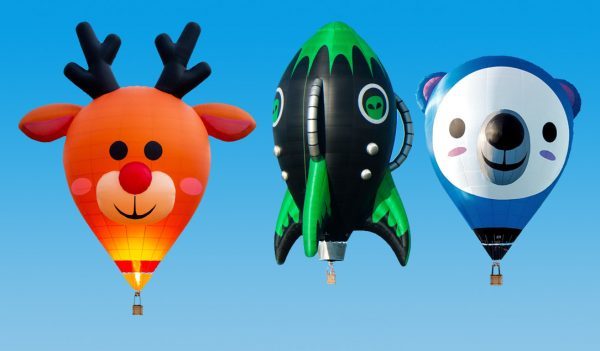 We have been building lightweight balloons for more than a decade.
All of our balloons are made with our specially-designed lightweight fabric. This fabric is custom-designed by us, and is custom-manufactured, dyed and coated to our specifications.
Making balloons with our lightweight fabric has several advantages. The first is easy handling by less ground crew. Secondly, the semi-translucscent properties of the fabric make the balloons light up at night during "night glows" – more so than with traditional balloon fabric. Laslty, all of our balloon systems (basket, burner, fuel cylinders & balloon) each fit on one small shipping pallet for easy international transportation and travel to worldwide events. Shipping one of our balloons can cost less than 50% of a traditional special shape made with heavy traditional balloon fabric.
Our Completed Projects
#LoveBear
LoveBear is one of two complementary Canadian animal Special Shape Hot Air Balloons done in a "Hello Kitty" style. It was built over the summer of 2019. It first flew in the fall of 2019:
LoveBear contains 1,300 yards (1,500 m) of our lightweight fabric, and weighs only 160 lbs (73 kg). It has a total volume of 82,000 cubic feet (2,300 cu m). It only requires a small team of 3 crew, and can take two (2) VIPs on each flight.

---
#MyDeerling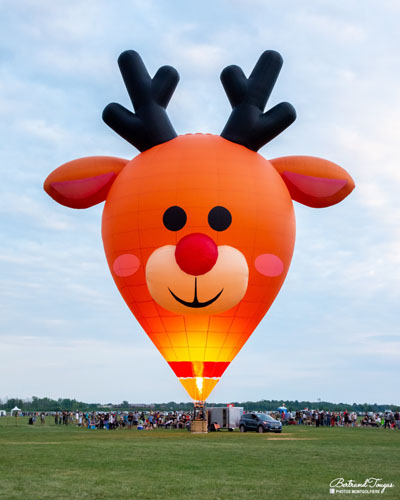 MyDeerling first flew in the summer of 2019 and is currently on a World tour.
Our lightweight fabric used in this balloon makes it much lighter than a regular special shape (103 kg envelope) and the pastel colors were custom-dyed specifically for this project.
MyDeerling contains more than 1,600 yards (1,463 m) of fabric and has a Volume of 80,000 cubic feet (2,265 cu m) plus about 10,000 cu feet of appendages, which are much larger and longer in size than most certified balloons with add-on appendages. The balloon stands 100 feet (30 m) tall and is 90 ft (27 m) wide.
It only requires a small team of 5 crew, and can take two (2) VIPs on each flight.
---
#Alien Rocket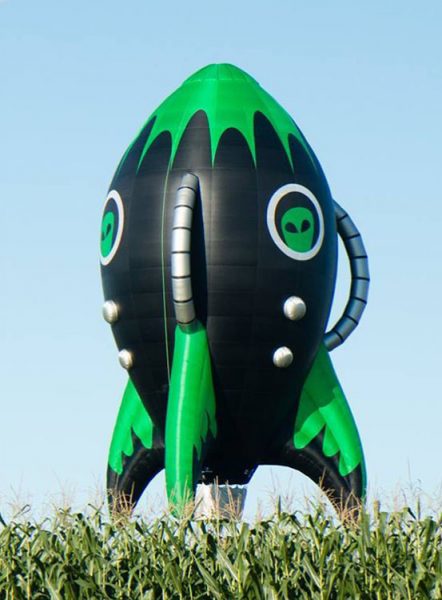 The Alien Rocket was the first special shape balloon out of our workshop and it first flew in 2016. This has been a very successful shape balloon, flying in over 7 countries to date. Kids and adults, boys and girls – everyone loves the Alien Rocket. It somehow ignites childhood dreams whenever and wherever it flies.
The envelope only weighs 95 kg. It requires a small team of 4 local crew, and can take one (1) VIP on each flight.
The volume, weight and size were all carefully calculated to makes it easy to handle, one that is almost guaranteed to come out of the bag, unlike some other shapes that are a little more involved.
The Alien Rocket contains 1,500 yards (1,380 m) of fabric, has a total Volume of 65,000 cubic feet and stands 93 feet (29 m) tall.
To follow its adventures worldwide, visit the Alien Rocket Facebook Page here: https://www.facebook.com/alienrocket
---
#Lite-Bright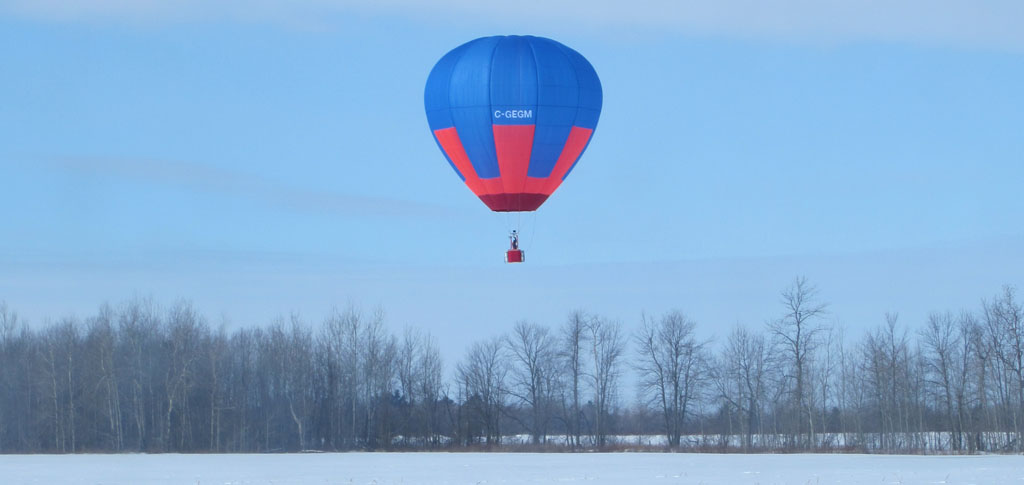 The first balloon ever built by Bard Balloons in 2009 was C-GEGM, named "Lite-Bright". It has it's own dedicated webpage. It also has a custom designed glass-floor basket, and with a volume of only 42,000 cubic feet, the envelope only weighs 75lbs (34 kg).
---
Other Projects
We have also helped on several other special shape balloon projects over the years, some of these appear below. All of the balloons above and below are availale for bookings worldwide and together we operate the largest fleet of special shape baloons in Canada, currently standing at 11 individual Special Shape Hot Air Balloons. We also have several new projects currently in development.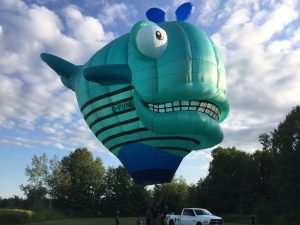 Get in touch if you want something custom-created for you!