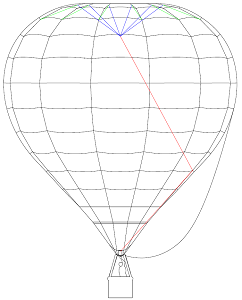 We now have 14 patterns to choose from in a variety of sizes and models.
These stock full-size hot air balloon patterns are completed and are ready for you to start your project.
Designed in 3D CAD, they have perfectly designed lofting, virtually eliminating unsightly vertical wrinkling inherent when using flat patterns.
Most patterns use our modern BARD profile.
There are several advantages to using the BARD profile vs. the traditional 1962 Smalley profile used by many of the old type certificated designs (still being sold today).
We note here that the Smalley profile was originally designed for stratospheric gas balloons, and while it was adapted in hot air balloons in the 1960s-1990s, it is not optimized for hot air balloons.
The first advantage of the BARD profile is the flatter top, which makes a more fuel-efficient balloon as it has a larger lifting surface.
The flatter top also makes the balloon easier to handle, with a slow, gradual transition from level flight into a descent when it cools, as opposed to an abrubt fall with some other designs.
It features a high equator, which keeps the balloon well pressurized, even when cool, and makes cold inflations easy.
And lastly, the straight bottom 1/3 of the BARD profile ensures the bottom of the balloon stays tight with the mouth open, even in fast descents.
—
% loft is the maximum "puff out" between the load tapes on a vertical gore (refered to as "loft" – but also called bulbousness). The percentage is in relation to the diameter of the balloon at the equator. The lofting on all patterns tapers to zero loft at the mouth and at the parachute (for a good seal).
Patterns feature a full first panel row of nomex.
Full size patterns need to be printed full-size on 60″ wide paper. Most sign shops can do this.
Patterns include:
Full size patterns for each panel of the balloon including seam allowances: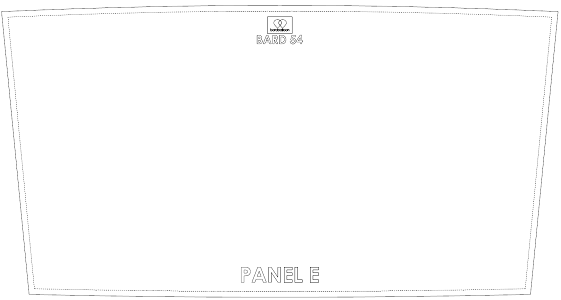 Side view diagram (in the patterns section below)
Layout view of all the panels, load tape locations, etc. This can also be used as a coloring sheet: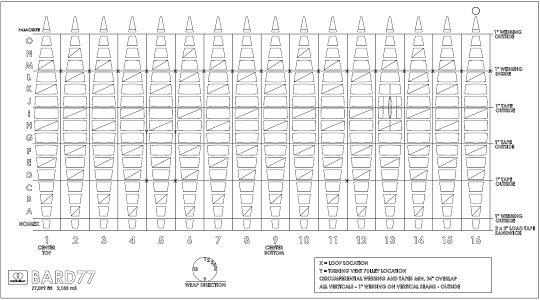 Overview page with measurements for all parts such as red line, crown line, parachute confluence lines, parachute centering lines, envelope flying wires, as well as fabric yardage, including nomex.
Once you have decided on a color scheme, we can also 3D render your color choices: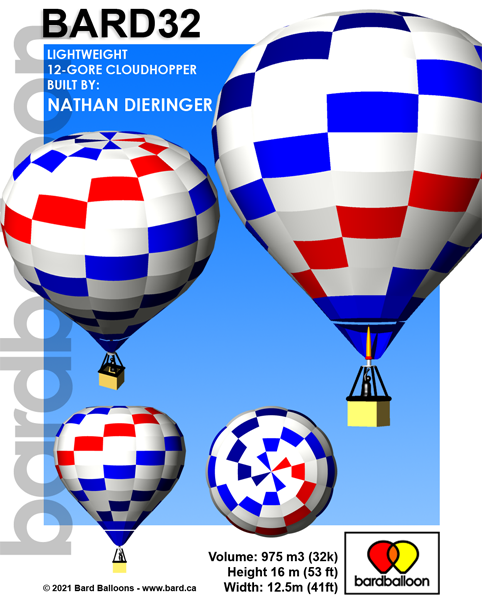 What's not included?
Step-by-step instructions are not included, but these are available elsewhere – either on the xlta.org website or inside the Balloon Builder's Journal. Sewing a balloon is not difficult, it just takes time – it's alot of pieces, and alot of sewing!
The cost of printing the physical paper patterns. We can print these for you for an additional fee, or we can also work with a US-based printing shop that can do this at a reasonable price, and they can ship the full size patterns to you – worldwide. Some of the patterns have already been printed by other builders and we can sometimes also arrange for you to cut your balloon from their copy of the paper patterns.
Building materials. You have to source your own materials, although we do stock some of the hard to find materials such as nomex, webbing and red line (kevlar-core with polyester jacket).
Completed Projects
To see what other builders have built using these patterns, visit the Project Gallery page.
Available Patterns:
STANDARD MODELS
Our Standard Models use the modern BARD profile and are available in 5 sizes.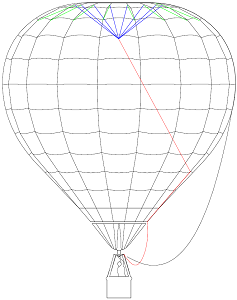 BARD31 Pattern
31,100 cu ft cloudhopper balloon envelope patterns.
BARD profile
16 vertical gores
6% loft (semi-bulbous)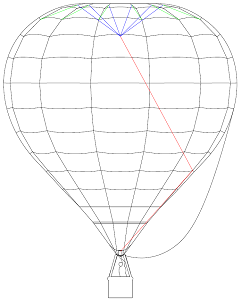 BARD32 Pattern
32,400 cu ft cloudhopper balloon envelope patterns.
BARD profile
12 vertical gores
3% loft
also available in a slightly scaled down BARD31M version (31,645 cu ft)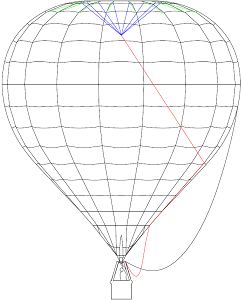 BARD54 Pattern
53,500 cu ft balloon envelope patterns.
BARD profile
16 vertical gores
3% loft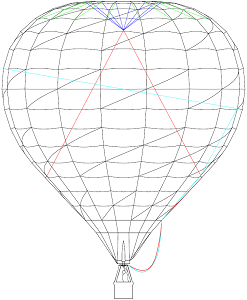 BARD77 Pattern
77,100 cu ft hot air balloon envelope patterns
BARD profile
16 vertical gores
3% loft
Turning Vents (optional)
Diagonal cuts (optional)
MAX SIZE MODELS
M stands for "Maximum Size". Using the modern BARD profile, these models are optimized for record flights, with only 12 gores for the least amount of weight and slight lofting to maximize the volume for the amount of fabric used. Available in 3 sizes.
V MODEL
V stands for "V-Taper". Using the modern BARD profile, this is a special model where the bottom 7 panels on every second gore taper down to a V.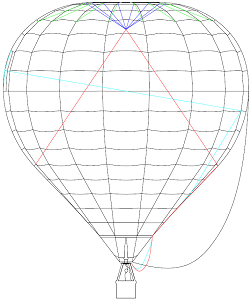 BARD70v Pattern
70,300 cu ft hot air balloon envelope patterns
16 vertical gores
Octagonal mouth with only 8 flying wires
Turning Vents (optional)
3% loft
BULBOUS MODELS
B stands for "Bulbous", with an old-timer look, similar to the old Viva or O models, this is a modern take using the BARD profile.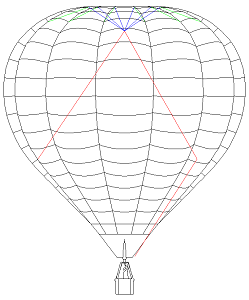 BARD84B Pattern
84,500 cu ft hot air balloon envelope patterns
a modern version of the classic bulbous "O84"
12 vertical gores
8% loft (bulbous)
Turning Vents not available on this model
HYBRID MODELS
"H" stands for "Hybrid". These balloons use the BARD Hybrid Profile, which is an elongated profile. It is not quite as elongated as a full racer profile, but also not like a regular ballon – it's the best of both worlds and has sporty handling. Features a flatter top for fuel efficiency, a high equator and a straight bottom 1/3. Available in 3 sizes.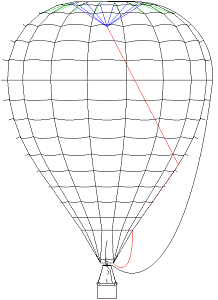 BARD56H Pattern
56,000 cu ft hot air balloon envelope patterns.
16 vertical gores
5% loft (semi bulbous)
Turning Vents (optional)
All rights to the patterns always remain © Alain Bard.
There is a fee to be paid for permission to cut fabric for one (1) balloon from the patterns. Get in touch if you are interested in getting a copy!
Lastly, if any of these designs don't quite fit the bill (if you wanted a different size, different # of gores, etc.), then we can definitely do a custom-design just for you. Most of the above patterns started their life as a custom pattern for others.