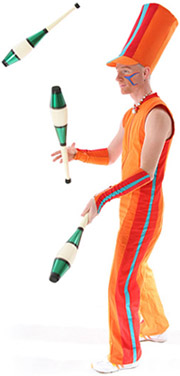 Hi there! Welcome to my old Circus Pages!
(Note that as of 2020, after 16 years of entertaining audiences worldwide, I have decided to hang up my performer hat – and I no longer perform professionally)
For 16 years – I performed professionally as a circus entertainer, juggler and stilt-walker from Ottawa, based in the National Capital Region of Ottawa, Ontario, Canada. I was usually spotted at any number of the area's festivals, fairs, events and parades, as well as in some international locations, sometimes wearing a crown.
I am a very experienced juggler and stilt-walker that can provide a fun, circus-like atmosphere at any event, in a way that entertains children and adults alike, putting a smile on everyone's face.
Roaming Performing / Animation

Most performances I do are in the "walkabout" style – also know as
"roaming". This type of performance usually involves being fabulously dressed in colorful and original costumes.
As a roaming stilt walker and/or juggler, I can provide ambiance and break the ice at any type of event. I can perform solo, or provide you with a fun duo with a fellow performer. Most of my costumes have a complement, and can be performed as a duo. Two is always better than one!
Stilt Characters
I am definitely not your average stilt walker. I dance and prance around dressed in many different types of colourful and original costumes, and excel in audience interaction and participation, which is why I like to call these different persona "stilt characters". Using multiple skills including improvisation, character acting and dancing, I can motivate and entertain audiences throughout an event.
Stilt characters are highly visible!
I easily draw attention exactly where you want it. Crowds of all ages cannot help but react to me as a character way up in the air… I put a smile on everyone's face. Event participants just love to have their picture taken with the tall person.