We can custom design almost any shape to make your hot air balloon idea come to life.
Flat patterns
Many home-builders use traditional flat patterns to build their hot air balloon. Unfortunately, this makes the balloons look boxy and flat, and because the loads are distributed unevenly along the surface of the fabric, it makes for balloons with many vertical wrinkles in the skin. One way to avoid this is to increase the number of vertical gores, but this requires more seams, more load tapes, and makes a balloon that is ultimately heavier. Here are some examples of flat rendered patterns:
Lofted Patterns
A better way, and the way all major balloon manufacturers use, it to use lofted gores, also know as "bulbous". The degree of loft on each gore is variable, depending the on the look you want to achieve. The lofted gores concentrate the loads at the load tape seam and lets the gores "puff" out naturally, which reduces or eliminates vertical wrinkles on the finished balloon. Here are some examples:
We can custom design any kind of shape, whether you want a round ballon with slightly lofted patterning (our favorite), a racer shape or a highly bulbous balloon, in any size. It's your choice. We use 3D patterning software to make exact patterns so that the end-product looks good in the air. We aslo have some neat tricks like flatening the loft of the patterns at the mouth and at the top to ensure perfect parachute fitment.
Custom
We can also design appendages and/or complex and/or assymetrical shapes: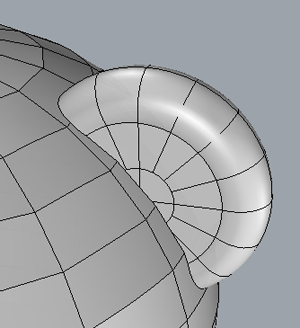 A note about our appendage special shape balloons
While at first glance, our 2 new special shapes for 2019 (MyDeerling and LoveBear) look like regular "appendage" balloons from major manufacturers, in fact, the main body of the balloons are far from regular. Most manufacturers would use an existing lofted pattern and add appendages to it, making vertical gore lines obvious in the design, but all our shapes use perfectly smooth 3D computer shaping so that there is no extra loft making a perfectly flat surface all the way around (like a smooth cylinder). This is difficult to achieve but the result is a balloon without wrinkles. The balloons also have rounded tops (as opposed to a flat top like a regular balloon) to more effectively look like the outline of a head, and finally, on the MyDeerling balloon, the size of the appendages far exceed the size used on other balloons.
Note the perfectly cylindrical smoothness and the absense of wrinkling in the surface of the balloon: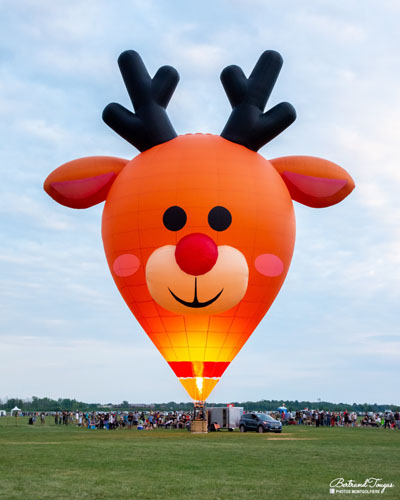 Get in touch if you want something custom-created for you!